The Woodland Wildlife Park was established in 1982 over 242 acres as a government funded public facility. In 1998, it was handed over to the Punjab Wildlife and Parks Department (PWPD) by the Forest Department. In 2004, the largest walk through aviary of Pakistan was constructed in Woodland Wildlife Park and opened to public visitors. Boating and fishing facilities were also built near a lake. In 2006, Government of Pakistan sanctioned 87 million Pakistani rupees to reconstruct the 2 km (1.2 mi) road leading to the wildlife park. This development increased the accessibility to the facility.

The Government of Pakistan turned management of the wildlife park over to the Zoo Maintenance Committee (ZMC) headed by the Chairman of the PWPD.Vice-chairman Tauqeer Shah said this transfer of control was due to poor previous management that was not working to improve the park. A ticket system was introduced in the wildlife park so that the Lahore Zoo Safari could become a semi-autonomous, self-financed organization. The park was extensively renovated and renamed Lahore Zoo Safari on January 21, 2009. The wildlife park is now considered to be an extension of Lahore Zoo.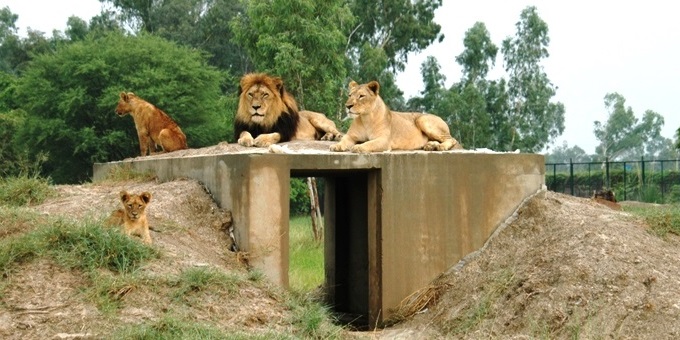 The species housed here include Indian peafowl, Bengal tiger, common pheasant, emu, lion, mute swan, nilgai, ostrich and silver pheasant among a few others. Largest walk through aviary of Pakistan is located in the Lahore Zoo Safari. Boating and fishing facilities have been developed near a lake. The lake is the biggest in the city, complete with four islands. There are also safari tracks in the lion and Bengal tiger areas, covering an area of 80 acres.